This magical Christmas tree is very suitable forsending children. friends. neighbors. girlfriends and other people you love. It is the best choice for Christmas gifts.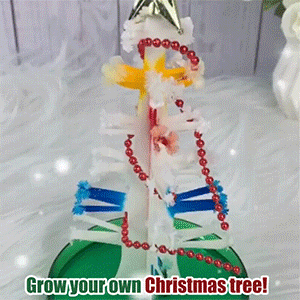 MAIN FEATURES
High Quality
Magic Christmas tree is made of paper and chemical reagents. it is colorless. odorless. non-toxic. and meets food-grade standards. Durable and environmentally friendly. you can use it with confidence.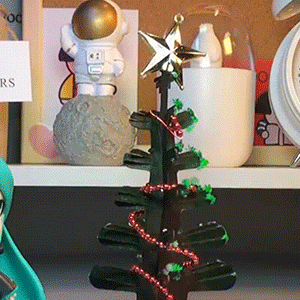 Perfect Christmas Decorations
It makes exquisite decorations for the Christmas holidays. home. office or wherever you want. It will give you a relaxed feeling and a pleasant Christmas atmosphere. Make your Christmas fun.
Surprise Gift
This DIY magical Christmas tree is very suitable for sending children. friends. neighbors. girlfriends and other people you love. it is the perfect gift.
Easy to Use
Fix the tree to the provided plastic container. Put on your stars or other decorations. and then add magical water. the magic paper flower only takes 8-24 hours to allow children to experience and learn the experimental course of crystallization reaction.
How to Use
1.Assemble the Christmas tree.
2.Install the base.
3.Unfold all branches by hand.
4.Add star and red bead chain as decoration.
5.Add growth solution.
6.The Christmas tree is grown within 24h and dusted with powder.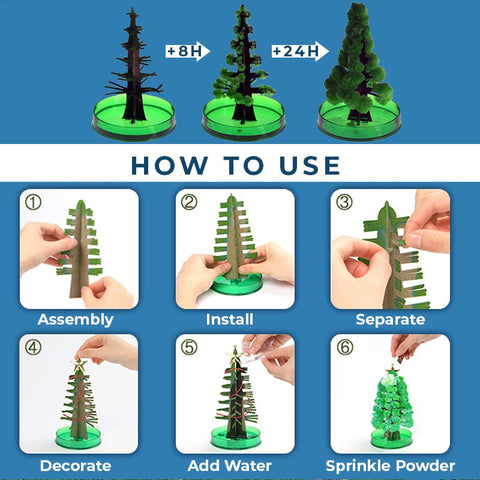 SPECIFICATIONS
Material: Paper. Chemical
Packing Size: 24*18CM/9.5*7.1 Inches
Styles: 01.02.03.04.05.06.07.08.09.10.11
Suitable age: Over 3 Years Old
PackageIncludes:1*Magical Christmas Tree
NOTE
Duetomanualmeasurements.pleaseallowslightmeasurementdeviations.
Duetothedifferentdisplayandlightingeffects.theactualcoloroftheitemmaybeslightlydifferentfromthecolordisplayedonthepicture.