Mark. and remove the marking with just the heat from iron!
TheHeat-Erasable Marking Pencan be removed with heat. brush or damp cloth. High quality pencil cores with exquisite craftsmanship. easy for marking and not easy to bend and break off. It glides smoothly and evenly across fabric without crumbling. The 20pcs refillcontains no waxes. dyes or harmful chemicals. 100% water soluble. Leaves fine visible lines to guide your quilting stitches.After the refill is retracted. the pen holder can protect the pen. and the refill is not easily damaged.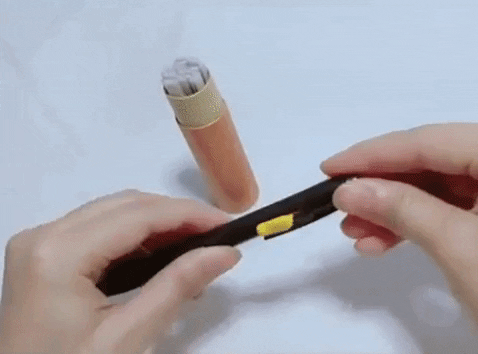 FEATURES:
Heat-Erasable Marking Pen: Marks will disappear automatically after a certain period of time. Disappearing time varies with temperature. humidity. cloth. dye. preservation methods. etc.
Wide Application: Generally used for dressmaking. handicraft. embroidery. artificial flowers. temporary line marking. Suitable for cotton fabrics. leather fabrics. etc.
Water Soluble: Removing your spots is as easy as applying them. Simply wipe with a wet cloth or sponge or allow the mark. Remove the mark as needed and apply it with clean water.
Easy to Use: The interior is solid pen and there are buttons on the outside. And the refill can be adjusted in length and can be adjusted according to the length and comfort of your own use.
Makes Fabric Marking Easier: Ideal for professional tailoring and home tailoring. its design makes it easy to hold and makes fabric marking easier.
Package Includes:
2 x Marker Pen
20 x Refill