Our product. theUNIVERSAL PAINTLESS DENT REPAIR TOOL KITisabsolutely perfect for removing most minor. andeven some major dents. withoutrepainting the vehicleanddamaging the factory finish.
No need to waitfor the car dent repair in therepair shop.most of the dent removal can be finished within half an hour.
Efficientandvery safeto pop out dents.repair door dingandhail damages on the metal surface. such asautomobile.motorcycle.refrigerator.washing machine. andmuch more.
KEY BENEFITS OF THE UNIVERSAL PAINTLESS DENT REPAIR TOOL KIT
SAFE:No chemicalsorother toxic materialis used in this process. it can ensure100% protect the original paint.It won't hurt the car original paint.
EASY TO USE: It isvery easy to useandsuper fast.in only a few seconds the problem is solved. Everyone can remove the dent by yourself.
SAVE MONEY:No more paying for the body shop repairs. It willsave 95% at least byOur tools. making dent removal.
Package include:
1 * Adjustable Dent Lifter
18 * Puller Tabs
1* Glue Gun
10* Glue Sticks
1* Plastic Glue Scraper
1 * Manual instruction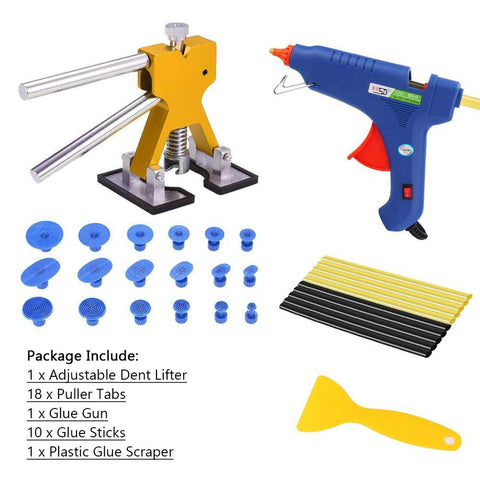 Notes: